---
Features - Word Template
What is a Word template?
A Word template is a Microsoft Word file customized according to the customer's needs. It is the foundation of the customer's PDF reports, which not only helps with the styling but also with getting all the necessary key figures.
The template includes:

Customized layout: colors, tables, fonts


Selected figures in tables
The figures are fetched from database - no additional work is required inputting the numbers.
Where do the numbers come from and how are they updated?
Analysts update the company models. Please, see the company model introduction for more information.
---
Screenshots - Word Template
At first you have to install the applications the template uses. You will get good instructions for it, so it shouldn't be too difficult.
* * *
The button shown in the picture above is the thing you start with. Clicking it will open a selection window where you may choose the layout of the report and e.g. the company or industry your report is about. (Click on the image below to see a larger image.)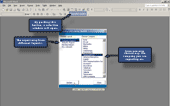 * * *
Using Valuatum platform and the Word template enables you to work effectively. The figures are calculated automatically in the company model and they are fetched from database with one click directly to the template.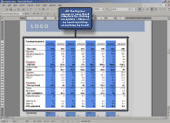 * * *
After the figures are put into their tables you may write your comments. The layout of the base template is adjustable: the comments can be inserted anywhere in the template.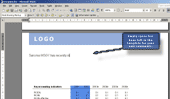 ---
For more information see:

Valuatum Product Benefits


Valuatum Network


Valuatum Starting Instructions