Valuatum Product Benefits
The main idea behind the product
Our software delivers equity research numbers from brokers to their customers (institutional investors) in such format that the numbers are widely reusable. The idea is to take full advantage of the valuable and extensive work of sell-side research analysts and thus save a lot of both brokers' and their customers' time.
Main idea of Valuatum product: full utilization of broker research efforts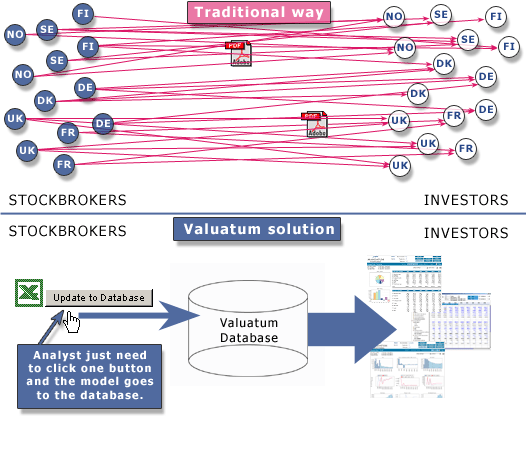 The picture above describes:
Traditional way: Currently the major part of broker research numbers stays at brokers excel-models. Only a small part of it goes to customers in static PDF-documents where the numbers are difficult to utilize for investors' own analysis.
Valuatum solution provides all the research numbers from broker's excel models to customers' own analysis: 9000 parameters/company can be found and more importantly also used by customers. Besides graphs and tables showing company research numbers very transparently, the system includes also time-series information about old estimates, aggregated sector information, seach-tools for all data and comprehensive yet easy-to-use valuation models for all companies. Every solution enables also that the data is taken to other applications such as Excel, but e.g. the Valuatum valuation model is much more flexible than Excel based models.
---
Valuatum system vs. standard research database systems
How Valuatum Platform differs from standard research database systems?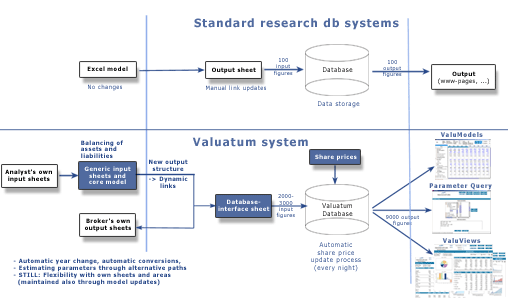 (Click picture to enlarge it.)
Valuatum Platform is designed by analysts for broker and fund management industry. It is not designed by IT-professionals like the other solutions on the market. That is the reason why Valuatum has also been able to redesign some processes (automatic year change, automatic evening of assets and liabilities, dynamic link strucutures) inside Excel valuation models and set in order the processes.
It has also enabled us to develop comprehensive valuation models inside the system with 9000 parameters/company and over 50.000 formulas. These two things provide the basis for the whole system. Without either of them we would not have been able to update every price-dependent figure daily or make everything automatic and thus absolutely easy for broker analysts. Without them we would not have the comprehensive numbers needed to make our product very different from any other solutions. Without that comprehensiveness it would not even be possible to provide any proper valuation models, that save lots of work from investors and are thus much appreciated by them.
---
The main benefits from Valuatum system
The sell-side analysts can do much more with less efforts as they get every piece of their research information easily from database. They do not have to gather research information any more from Excel models. They can also get aggregated sector information and time-series information e.g. about how the estimates of certain sectors or companies have been developing in the past. With Excel models the work becomes also much more efficient as any manual link or year change updates vanish as they make room for automatic excel procedures. The excel-model updates become automatic and thus fast, fluent and flawless. Furthermore analysts can produce (or update) the research pdf-reports much faster than before - with only couple of clicks they update of generate the tables and graphs with numbers. The total cost reduction or efficiency improvement deriving from Valuatum Platform within the sell-side analysts can be up to 30% of the total costs of analysts.


Customers i.e. investors get almost similar access to research data as sell-side analysts themselves : investors save time and effort as they get all research numbers in reusable format. They fetch easily any data about any companies or sectors without having to see the trouble of manual gathering. They can do their own analysis and build their own scenarios based on flexible, comprehensive and easy-to-use valuation models which are always updated with the latest view from sell-side. The transparency of broker research goes to level where it has never been before and the investors appreciate that.


Brokers at the brokerage desk get also instantly very comprehensive and illustrative www-view on all the research. The best thing is that the customers have the same illustrative web-based interfaces. Thus it is very easy for the brokers to share and discuss their views with the customers and the target companies by phone
=> The Valuatum Platform pays itself back already with the efficiency improvement with the work of sell-side analysts. However, even bigger benefits can be derived with it through the improved customer benefits as it is channeled to improved sales flow. Even one new small or mid-sized hedge-fund customer (which typically love this product as they can easily create and test their own valuation scenarios) can generate more sales flow than the monthly cost of Valuatum Platform is for mid-sized broker.
---
Want to know more?
For more information see:


Valuatum Product


Valuatum Platform Description


Valuatum Network


Platform Integration Examples


Valuatum Excel integration and conversions


Word Templates - How to generate research pdf-reports quickly


Platform Pricing Guidelines